---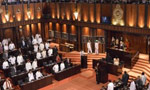 The government today presented the Appropriation Bill to provide financial provisions in respect of various activities of the state in the 2017 thus indicating a slashing of expenses.
Accordingly, the estimated expenditure for 2017 as per the Appropriation Bill is rupees one thousand eight hundred nineteen billion five million forty four thousand compared to budgeted spending of rupees one thousand nine hundred forty one billion four hundred fifty million four hundred thirty thousand 2016.
However allocation for the President has been increased to Rs 6.4 bn (Rs 64,52, 679, 000) for 2017 compared to Rs 2.39 billion ( Rs 2,392, 075,000) this year.
The allocation of funds for the Prime Minister is also increased upto Rs 1.2 billion ( Rs 12,55,271, 000) from Rs 486.1 million (Rs 486,100,000) in 2016.
The defence budget has also been slashed to Rs 284.04 billion (Rs 284,044,344,000) from Rs. 306 .6 billion ( Rs 306,657,824, 000) this year.
The allocation for health is reduced to Rs 160.97 billion (Rs 160,971,829,000) for the year 2017 compared to Rs 174.077 billion ( Rs 174,077,998,000) in the current year.
The education budget is slashed to Rs 76.94 billion ( Rs 76, 943,719,000) from Rs 185.97 billion (Rs 185,976,030,000) in the current year. The situation is same with higher education as the expenditure is slashed to Rs 163 billion ( Rs163,404,738,000) from Rs 171,419,880,000) this year.
The expenditure for provincial councils and local government bodies has been slashed to Rs 214. 12billion ( Rs 214,123,449,000) compared to Rs 237.93 billion ( Rs 237,934,642,000) in 2016. Funds have been allocated separately to provincial councils for the year 2017 compared to 2016 where such an allocation was not done in the the Appropriation Bill leading to a controversial situation. Accordingly the highest allocation of Rs 22.4 billion is for the Central provincial council. Rs 16.4 billion has been allocated for the Northern Provincial Council.
However the allocation for a few ministries including the Ministry of Tele communication and digital infrastructure has been increased as per the Bill. Accordingly the allocation for the said ministry is increased upto Rs 2.4 billion (Rs 2,453,610,000) compared to Rs 423.8 million (Rs 423,800,000) in 2016.
The increase of capital expenditure and reduction of recurrent expenditure for almost all the ministries is a notable feature.(Yohan Perera)