---
Applications for postal voting at the forthcoming General Elections will be accepted from March 6 to 16, the Election Commission said today.
The Extraordinary Gazette notifications were issued on Tuesday (March 3) under the signature of Saman Sri Rathnayake by the order and advice of the Elections Commission. These gazette notifications are on the procedure for the casting of votes, the appointment of returning officers and assistant returning officers.
However, the Elections Commission had announced the number of members to be elected from each of the 22 Electoral Districts and the deposits from Independent Groups to be made at the forthcoming Parliamentary Election.
It also announced the number of candidates to be nominated and the deposits required to be made by Independent Groups.
The announcement was made under Section 16 of the Parliamentary Elections Act, No. 1 of 1981 and Nominated Candidates from Political Parties and Independent Groups for each Electoral District.
Accordingly, the highest number of members (19) are to be elected out of 22 candidates from the Colombo Electoral District with the Independent group deposit of Rs.44,000.
Matale, Batticaloa and Polonnaruwa Electoral Districts have to elect five members out of eight candidates with an Independent Group deposit of Rs.16,000.
Recognised political parties would not be required to make any deposit, the Gazette notification said.
Arrangements for receiving of deposits would be made at the relevant District Secretariat or the District Elections Office.
In the remaining Electoral Districts, the number of members to be elected, the number of candidates eligible to seek election and the amount of deposits to be made by an Independent Group are mentioned as follows: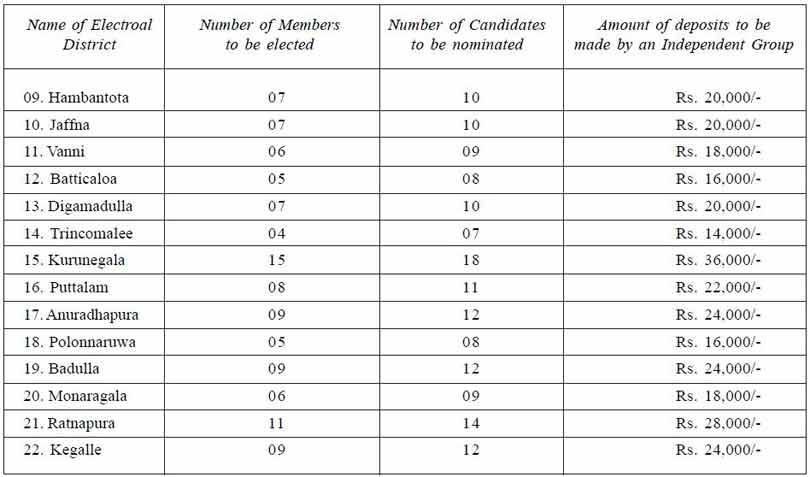 By Chaturanga Samarawickrama