---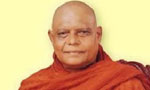 Anunayaka Thera of the Ramanna Nikaya, Most Venerable Nauyane Ariyadhamma Thera passed away this morning at the age of 78 while receiving treatment at a private hospital in Colombo.
Ven. Ariyadhamma Thera was born on April 29 in1939 in Kurunegala and was educated at Nilagama.
The Thera was ordained as a monk in 1957 and received upasampada on 15 July 1959 with Ven. Madawala Dhammatilaka Thera.