---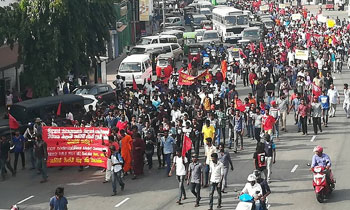 The five-day protest march launched by the 'SAITM Virodi Sisu-Jana Vyaaparaya' demanding that the South Asian Institute of Technology and Medicine (SAITM) be abolished, reached Colombo today.
About 4000 protestors participated in the march which started from Kandy on Monday.
Concluding the march in front of the Colombo Fort Railway Station, Medical Student's Action Committee (MSAC) Convener Ryan Jayalath said they would take crucial decisions with regard to the SAITM issue if the government continued with its suppression on anti-SAITM forces.
"We are forced to take tough action in the future. Our struggle gets more strong with the suppression of the government. The government is conspiring to legalize SAITM with 'the Second Phase of the 77's Revolution'," he added.
He said that they would continue their struggle until they succeed in their mission and added that trade unions including the doctors were forced to take trade union action due to such steps taken by the government.
Addressing the gathering, Government Medical Officers' Association (GMOA) Secretary Dr. Haritha Aluthge said that the SAITM should be immediately abolished and there should be no other interim solutions.
"The SAITM will be definitely abolished and we will not step back from this struggle against the SAITM until we will reach the final destination," he added.
Meanwhile, Lanka Sama Samaja Party (LSSP) Leader Prof. Tissa Vitharana said he was pleased to see the university students, trade unions and peoples' attempting to abolish the SAITM.
"The government is always attempting to privatize or sell national assets. This could not merely be considered as a struggle against the SAITM, but a struggle to stand against the state policies," he added.
Several trade unions representing health care services, teachers, university lectures and representatives of several political parties were also participated in this protest march. (Kalathma Jayawardhane)