---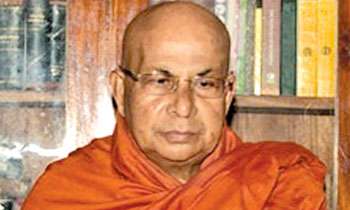 The Mahanayaka of the Amarapura Chapter Most Venerable Kotugoda Dhammawasa Thera yesterday called for the setting up of a Senate in order to ensure that correct decisions are made on behalf of the country.
The most Venerable Thera said this when Prime Minister Ranil Wickremesinghe made a courtesy call on the Mahanayaka thera at the Sri Dharmapalaramaya Temple in Mount Lavinia last evening.
"I requested the Prime Minister to set up a Senate which comprises of intellectuals in various fields such as artistes and other professionals. Good decisions could be made on behalf of the country if such a second chamber exists," the Thera said.
"I have made this request from former President Mahinda Rajapaksa and incumbent President Maithripala Sirisena sometime in the past and now I made the same request from Prime Minister Wickremesinghe," he added.
The Venerable Thera said he informed the Prime Minister that Theravada Buddhism should be given the foremost place in the land. He had also suggested to the PM that local entrepreneurs should be safeguarded when it comes to compiling economic policies of the country.
Prime Minister told journalists after the meeting that he briefed the Thera about future development plans and the steps which the government intends to take to ensure reconciliation.
Minister of Ports and Shipping Sagala Ratnayake also accompanied the Prime Minister. (Yohan Perera)