---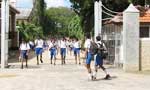 All government and semi-government schools in the country will be re-opened from tomorrow (23) except for 52 schools in the Sabaragamuwa Province, Education Ministry stated.
Schools in the Sabaragamuwa Province were closed on May 18 & 19 due to bad weather conditions prevailing in that area. An Island-wide closure of all schools was announced on Thursday by Education Minister Akila Viraj Kariyawasam owing to the unchanged bad weather.
However, Secretary to the Education Ministry W.M. Bandusena today said the decision on the re-opening of the schools in the Sabaragamuwa Province will be taken by relevant Zonal Education Directors, taking into consideration of the current weather situation in those areas.
Information Officer of the Sabaragamuwa Provincial Council, Denzil Weerasuriya said 52 schools will remain closed until further notice.
Among the 52 schools, flood and landslide victims have been re-located in 33 schools and some 19 schools are under flood and landslide threats.
However, he said the rest of the schools in the Sagaragamuwa Province will also be re-opened from tomorrow.
Meanwhile, Minister Kariyawasam has directed the Examination Department to speed-up the process to provide certified copies of the educational certificates which were destroyed or lost by the floods and landslides to the affected parties.
He has also instructed the Examination Department officials to obtain correct information to ensure the identity of whose education certificates which have been destroyed or lost. (Piyumi Fonseka)