---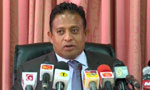 Several SLFP members, who used to criticise the party, really didn't know who their real mother was, Minister Chandima Weerakkody said.
While addressing media today the Minister said the SLFP members who loved the party never thought of dividing it.
"It is like a mother who doesn't like to see her children in trouble," he said.
"However, there are members who are adopted by the SLFP and they never think about their mother as they don't have any feelings towards her," he said.
"Those adopted children in the SLFP don't know who their mother is," he said.
"Those kinds of people are the ones, who fabricate falsehoods about the party," he said. (Chaturanga Pradeep)
Video by Rishan