---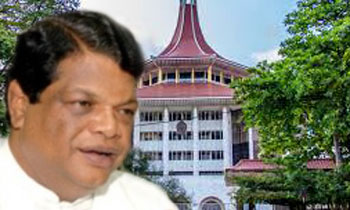 Former Deputy Finance Minister Bandula Gunawardane filed a petition before the Supreme Court seeking its Special Determination on the Bill titled "Active Liability Management" presented to Parliament and placed on the Order Paper on 19.02.2018.
He laments that the said Bill is drafted in a manner to abrogate the powers of the Central Bank and shift such powers (directly and/or indirectly) to the Minister and alleges this amounts to an abdication of legislative powers of the people exercising it through the Parliament.
He states the immunity given by a clause to public servants, members of the Monetary Board from civil and criminal liability, is irrational and capricious and endangers the economy of the country and the national security, and would lead to acts of fraud and corruption.
The proposed Bill states as an Act to authorise the raising of loans in or outside Sri Lanka for the purpose of active liability management to improve public debt management in Sri Lanka and to make provisions for matters connected therewith or incidental thereto.
He states certain clauses of the Bill Deprive and abrogates the powers of Parliament to have full control over public finance and deprive and abrogate the powers and duties of the Central Bank and the Monetary Board to manage public debts.
He also states that the clauses empower the Minister and the Cabinet of Ministers, with the authority to be in charge of and thereby to regulate and control the affairs of and matters in relation to public debt.
He complains that it shall enact a law with "retrospective effect" which defeats and nullifies the budget speech of the Government presented to the Parliament and the Appropriation Act.
He states the Bill is in conflict with the provisions of the Fiscal Management (Responsibility) Act and is intended to curtail the controlling powers of the Parliament over public finance. (S.S. Selvanayagam)