---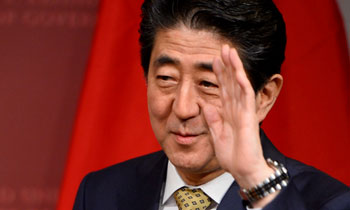 Prime Minister Shinzo Abe secured a crucial victory in Japan's parliamentary elections on Sunday, with his ruling bloc maintaining a supermajority that could allow it to push for a revision of the nation's pacifist constitution.
With results still trickling in Monday, public broadcaster NHK reported that Abe's Liberal Democratic Party and its smaller coalition partner, Komeito, had received at least 213 seats in the 465-seat House of Representatives.
The result further illustrates the political savvy of Abe, 63, who has proved an enduring force in Japanese politics despite scandals and fluctuating approval ratings.
"This is a win for Abe," said Sheila Smith, a Japan expert at the Council on Foreign Relations, adding that the supermajority showed "a real endorsement of Abe's leadership"
The decisive victory is expected to bolster Abe's hopes in an upcoming leadership contest within his party, potentially cementing the prime minister's place in history. If Abe serves out a complete four-year term, he will remain at the helm during the 2020 Tokyo Olympic Games and become Japan's longest-serving prime minister.(The Washington Post)