---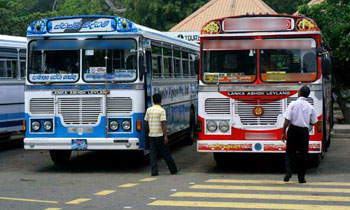 The All Ceylon Private Bus Association (ACPBA) said yesterday they would request the government to use kerosene as fuel for buses instead of diesel.
ACPBA Secretary Anjana Priyanjith told Daily Mirror that about 30 per cent of private buses in the country were now using kerosene.
"Using kerosene as a fuel for buses has now become a trend among private bus operators. Bus engines have been designed to use diesel, but the diesel engine mechanism could also modified to be operated with kerosene," he said.
"We fill the tank with kerosene and add two litres of DS-40 oil into it. Kerosene can be used efficiently after adjusting the pressure of the diesel pump and results in the owner's income being increased by about 50 per cent. This method does not need any increase to the bus fare," Mr. Priyanjith said.
A litre of Lanka auto diesel is sold at Rs.95, while a litre of Lanka kerosene is sold at Rs.44.
However, the Inter Provincial Private Bus Association (IPPBA) President Sarath Vijitha Kumara denied this claim.
"Bus engines are not designed to use kerosene and it is not safe, and these unscrupulous methods are resorted to by bankrupt bus owners," he said.
Mr. Kumara said Mr. Priyanjith should discuss these changes with other bus owners organisations before making such statements.
Lanka Private Bus Owners' Association (LPBOA) Chairman Gemunu Wijeratne said using kerosene in buses was illegal as it was sold in Sri Lanka to low income families.
"Kerosene can be used with higher profits in view but when it causes mechanical faults, repairs will be costly," he said. "Even engines would have to be replaced if this method is used and is dangerous as it is more inflammable than diesel with very high emissions. Insurance cannot be claimed. We should switch the bus service to an eco-friendly system and it is time to convert to electric buses."
Recently, the Ceylon Petroleum Corporation (CEYPETCO) banned the distribution of Lanka Kerosene Oil (Red) to vehicles, factories and other wholesale outlets after discovering that many dealers have been distributing Lanka Kerosene instead of Industrial Kerosene.
Lanka Kerosene is red in colour while industrial kerosene is colourless. (Chaturanga Samarawickrama)