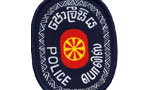 More than 20 police personnel attached to the Peliyagoda Crime Division were transferred with immediate effect in connection with the case where a constable attached to the unit was arrested by the STF last month on charges of selling heroin.
The Peliyagoda Crime Division, a special unit operating under the Western Province North DIG L.G. Kularatne came into the limelight after the constable was nabbed selling heroin to Police Special Task Force officers acting as decoys in a sting operation on June 15.
A senior police officer said that soon after an inquiry, the DIG took immediate steps to transfer some 20 officers who had completed more than two years in the unit.
They were replaced by personnel with a unsullied service record drawn from the surrounding stations and units.
In the wake of the constable's arrest, evidence had revealed that two more police personnel were linked to the trafficking in heroin. The narcotics had been siphoned off from various raids and detections carried out by the unit.
The senior officer said the transfer of officers who had remained for in particular unit for a long period was essential to discourage unlawful activities they might be led to commit.
(Kurulu Koojana Kariyakarawana)