---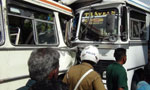 At least nineteen passengers were injured in a head-on collision of two busses at Thuppitiyawa in Thanthirimale this morning, the Police said.
They said the Anuradhapura bound bus from Thanthirimale had collided with a private bus from the opposite directions.
Police said thirteen women were among the injured and that they were admitted to the Anuradhapura Teaching Hospital.