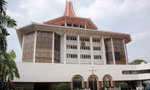 The Supreme Court today began its hearing into the constitutionality of the proposed 19th Amendment to the Constitution sequent to 16 special determination petitions and five other intervenient petitions filed for and against the proposed bill.
The Supreme Court Bench comprised Chief Justice K. Sripavan, Justice Chandra Ekanayake and Justice Priyasath Dep PC.
Lawyer Gomin Dayasiri, provincial councillor Udaya Gammanpila, L.P.I. Perera, Darshana Weerasekara, Ven. Bengamuwe Nalaka Thera, S. Wanigasekara, Ven. Matara Ananda Sagara Thera, D. Weraduwage, Sri Lanka Press Institution, Piyal Nanayakkara, Somaweera Chandrasiri of Mahajana Eksath Peramuna, Nishantha Warnasinghe of the JHU, MTV Channel, MBC Network, Nagalanda Kodituwakku and T.A. Jayakody filed special determination petitions while Krishantha Nalanda Ambagaspitiya, K.S. Upul Prabhath, Mohinudeen Mohammed Mustqdeen, Wasantha Piyal Rajakaruna and Geoffrey Alagaratnam filed intervenient petitions in SC in terms of Article 129 (1) of the Constitution. The petitioners cited the Attorney General as the respondent.
Most of them had sought a declaration that presidential powers, the powers of the Government and fundamental rights of the citizen were sought to be changed through the proposed amendment and as such required a two-thirds majority in Parliament and the approval of the people at a referendum.
The Government presented an amendment to the Constitution called the 19th Amendment that was gazetted on March 13, 2015. The proposed amendment was also placed in the order paper on March 24, 2015.
Further hearing into the matter was fixed for today (2) with Supreme Court's determination on this matter to be communicated to the Speaker and the President.
(Lakmal Sooriyagoda)