---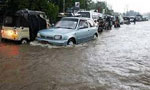 About 1000 families had been displaced due to floods in the Puttalam District, the Disaster Management Centre (DMC) said.
DMC Deputy Director Sarath Lal Kumara said several main roads and connected by-roads in the low lying areas in the Puttalam District had reportedly been flooded.
Steps had been taken to provide immediate relief to the affected, he said
Meanwhile the Department of Meteorology said that as the atmospheric disturbance was moving away from the country there would be a gradual decrease in showers and thunder storms.
However, the department said that showers could occur at several places in the country.
The Department said that the Puttalam and Kurunegala Districts had received 25mm rain fall during the past 24 hours. (Chaturanga Pradeep)