---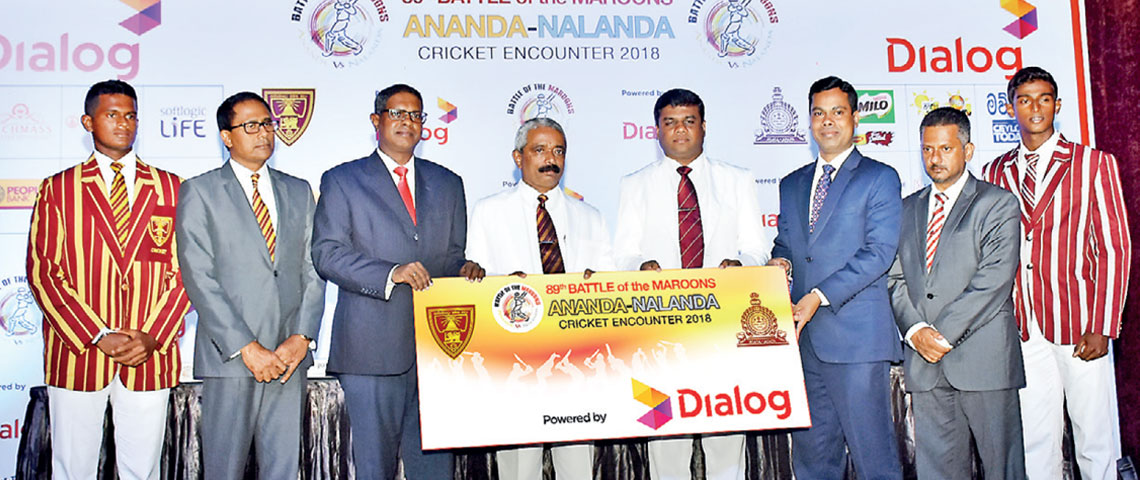 The 89th Battle of the Maroons Inter-school Big Match between the traditional rivals Ananda College and Nalanda College sponsored by Dialog Axiata PLC and played for Dr. N. M. Perera Memorial Challenge Trophy is scheduled to be worked off on March 3 and 4 at the SSC Grounds in Maitland Place.
The One Day encounter between the two schools played for the P. D. S. Kularatne Challenge Trophy will be worked off on March 18 at the same venue.
This time too, the Big Match is organised by a Joint Committee comprising of past students from Ananda and Nalanda appointed with the blessings of the two Principals of the schools.
This Big Match has now become one of national importance, considering the immense contribution that these two schools have made to Sri Lanka Cricket over the years.
The first Test Cricket Captain of the country – Bandula Warnapura is a proud product of Nalanda, while Arjuna Ranatunga, who led Sri Lanka's World Cup winning team in 1996 hails from Ananda.
In addition, Ananada and Nalanda, the two premier Buddhist Schools in Sri Lanka have so far produced the highest number (more than 55) of National cricketers to have represented Sri Lanka in international cricket.
The first half century, the first century and also the first double century for Sri Lanka in Test Cricket were scored by three Anandians - Arjuna Ranatunga (1982), Sidath Wettimuny (1982) and Brendon Kuruppu (1986).
Mahela Jayawardena – the former Sri Lanka Skipper – from Nalanda holds the unique honour of becoming the first Sri Lankan to complete 10,000 runs in Tests and One Day International Cricket.
Dinesh Chandimal who led Sri Lanka to series wins in all three forms of the game against Bangladesh recently, has the honour of being the first Sri Lankan to score twin half centuries in his debut Test match.