---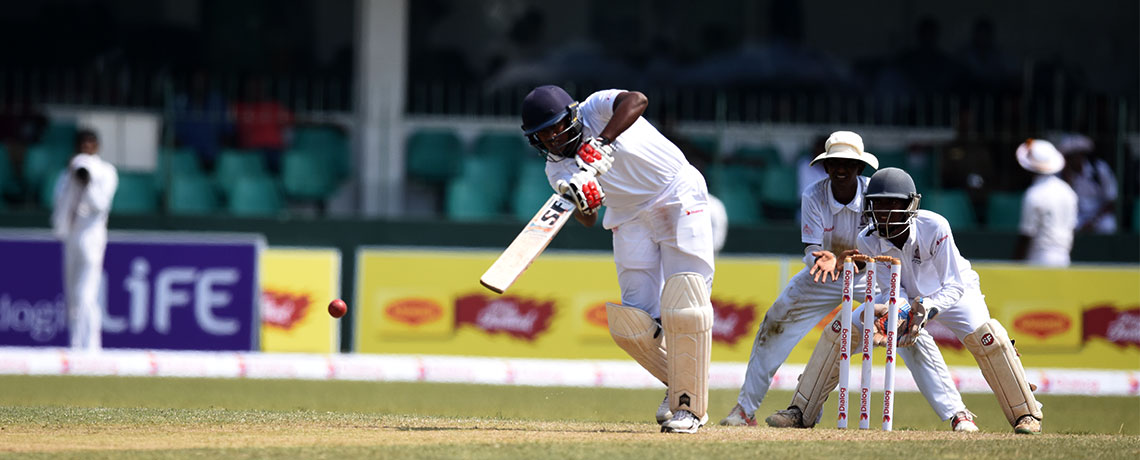 BY M. SHAMIL AMIT
he 89th Battle of the Maroons Inter-school Big Match between the traditional rivals Ananda College and Nalanda College fizzled into another tame draw at the SSC Grounds in Maitland Place yesterday.
The highlight of the second day was a fine century from Kamesh Nirmal (brother of National skipper Dinesh Chandimal) who hammered exactly 100 not out which helped Ananda reach 252 for seven wickets in the second innings. Earlier, Nalanda in reply to Ananda's score of 141 runs went on to make 252 in their first innings with Skipper Rasanjana making a top score of 72 runs For Ananda, Asel Sigera and Gishan Vihwajith were the top bowlers sharing six wickets between them.
Ananda batting the second time lost their first wicket at 25 and then two more with the score on 85.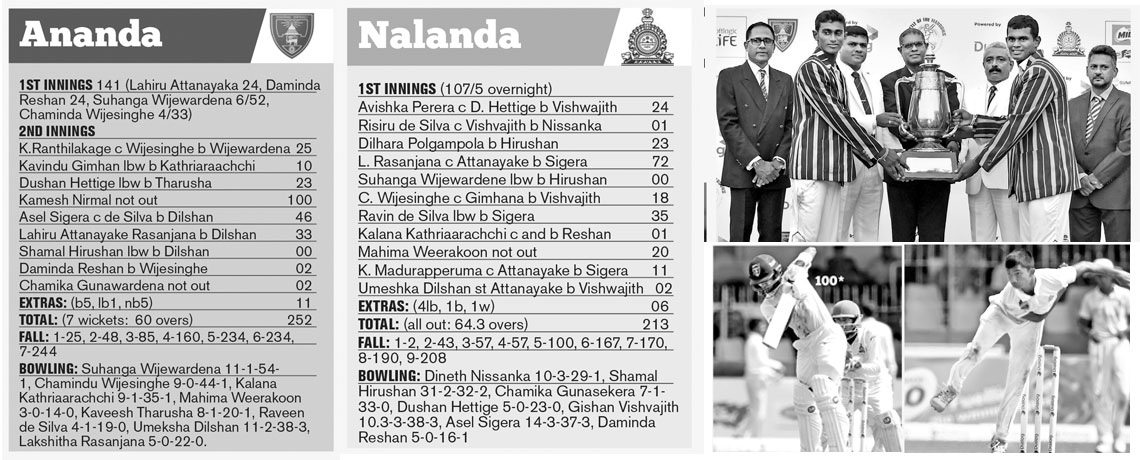 Preview: Nalanda aiming to break six decade jinx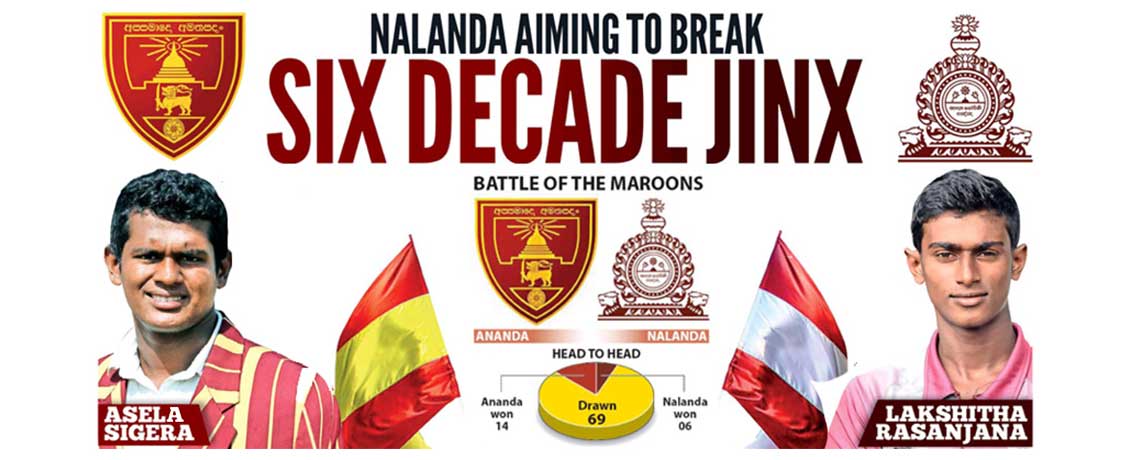 BY M. SHAMIL AMIT
Two of Sri Lanka's leading Buddhists institutions Ananda College and Nalanda College will clash for the 89th time in the annual "Battle of the Maroons" big match encounter for the Sujeewa Kamalsooriya memorial trophy on March 3 and 4 at the SSC grounds from 9.30 a.m. onwards. Kamalsooriya was an outstanding sportsman of Ananda who led the cricket team in the year 1983. He met with a tragic death during the tsunami disaster that devastated Sri Lanka in 2004.
Apart from the period between 1942 to 1947 when the encounter was not played due to World War II prevailing at that time. Of the 76 encounters played the Anandians are leading with 14 wins against six to Nalanda, with the rest being drawn.
With the Anandians having last won the encounter in 2003 under the captaincy of Damindu Kularatne the Nalandians on the other hand will go all out to break the 64-year-old jinx having last won way back in 1953 under the leadership of W.W. Silva. But the form of the two teams this season points out to a well balanced sides in both camps. The Anandians led by fourth year coloursman Asel Sigera posses seven coloursman have recorded three outright wins from the 14 matches they have played while the Nalandians also led by a fourth year coloursman Lakshitha Rasanjana from the 15 games they have played have a better record of having secured five outright wins.
On the other hand Nalanda too have a host of batsmen to spearhead them in the likes of skipper Lakshitha with 650 runs to his credit, deputy skipper Suhanga Wijewardena (600), Avishka Perera (550) and Chamindu Wijesinghe (500) and of course the Nalandians will be expecting them to be at their best if the side is to make any impression.