---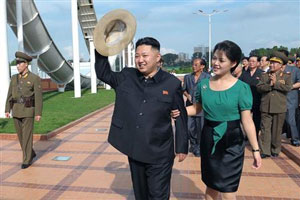 Never mind the floods. Enjoy the rollercoaster ride and keep smiling.

That seems to be the impression the youthful new dictator of destitute North Korea wants the state propaganda machine to give to a public that may be facing even more than usual food shortages when drought was followed last month by devastating floods.

In the past few weeks, the 20-something Kim Jong-un, the third generation of a ruling dynasty better known abroad for its gulags than its compassion, has overturned the austere image that his father nurtured during his years in power.

This week state media showed the leader cheerfully riding a rollercoaster in an outdoor theme park he had opened, clapping performing dolphins and waving to a crowd of young people in bathing suits.

Apart from a brief spell at school in Switzerland, the young man has only known life inside the personality cult that gave his grandfather and father, and now him, god-like status to bolster their rule over the northern half of the Korean peninsula.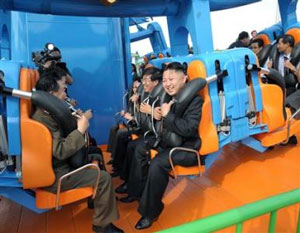 But unlike the relative prosperity when founder Kim Il-sung was in power, his grandson has inherited a state that cannot feed itself without Chinese aid, whose factories are rusting away and which relies on the potential threat of nuclear weapons as diplomatic leverage with a world that treats it as a dangerous pariah.

"We shouldn't exclude the possibility that he is just doing what he feels like," said B.R. Myers, a prominent expert on North Korea and its propaganda at the South's Dongseo University.

And he questioned whether the fresh-faced image really presaged wider change in a country where for decades state control has been overwhelming and poverty routine.

"The regime is so wrapped up in own elite. It's pitching propaganda at that elite. It's very risky," Myers said of the new style, which could be taken by ordinary North Koreans to ignore their plight.

The smiling, playful Kim of recent North Korean television footage has come as something of a shock to North Korea watchers, who point especially to the fact that he is seen repeatedly in the company of his attractive, young wife.

The fact that she affectionately holds his arm, and wears short skirts compared with the voluminous national dress normally considered appropriate for North Korean women on formal occasions, has simply further raised eyebrows.

"In presenting a trophy wife to North Koreans, he has shown to people he enjoys the perks of his position. It is something he may come to regret," Myers said.

OPTIMISM, SCEPTICISM

Kim's Dear Leader father, Kim Jong-il, was never shown by state media with any of his wives or consorts, only in the company of officials, invariably with notebook and pen to hand to record his words, travelling the country to teach his people how to improve their lot.

His reputed fondness for life's luxuries, such as expensive cognac, was kept out of the public eye. In the hope of cramping his lifestyle, the United States added luxuries to banned exports to the North as part of sanctions of its attempts to build a nuclear arsenal.

The son has largely avoided being drawn into the issue though early this year his risked international fury by sending up a long-range rocket his government insisted was to launch a satellite but which others assumed was a ballistic missile test.

It was a failure and, apart from a flurry of speculation of another nuclear test, the question of North Korea as Asia's biggest single military threat has since gone off the boil.

North Korea has long argued that, hemmed in by a hostile United States and its allies, Japan and South Korea, it has no choice but to build up a powerful defense, including a military to which almost a fifth of the 25 million population belong.

The bright new image has been taken by some as raising the possibility of broader change, that will include economic reforms in a country where extreme poverty, and very strong state control, is the norm.

But that optimism is met with skepticism by those who doubt that a dynasty that has managed to survive by not changing would dare to open up now. Some question whether the new leader even has any concept of what reform might mean.

"Certainly, his style is different from his father's," said Ryoo Kihl-jae, a professor at the University of North Korean Studies in the South.

"But we should not connect this with recent talk of reforms or opening. If you see the path where North Korea has walked, they tried reforms and opening and people had hopes and expectations. But it's all been in vain."

Ryoo said that to see a leader walking arm-in-arm with his wife would be "weird" in the South, let alone the ultra-conservative North which made him wonder if Kim really understood what he was doing.

"I don't know if Kim Jong-un realizes where his country is right now."

(Addtional reporting and writing by Jonathan Thatcher; Editing by Robert Birsel)

(Source : Reuters)