---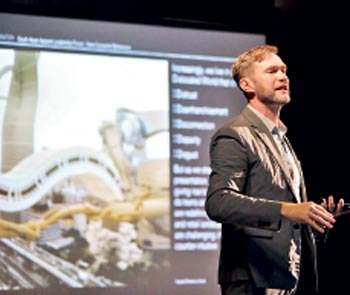 The 2017 edition of the prestigious apparel and business meeting-of-minds—the South Asian Apparel Leadership Forum in Colombo has announced that the world renowned business foresight and innovation consultancy- Future Laboratory will be part of its inspiring line-up of speakers.

As a consultancy renowned for its on-point insight and innovation work with several FTSE 100 clients, The Future Laboratory is well-equipped to deliver market foresight with a focus on psychographics over demographics, to examine emerging consumer mindsets that will influence fashion brands within the next decade.

Their session titled 'The age of re-engagement' captures how the future consumer—whose values and desires are shaped by the current narratives of digital, political and economic shifts— will reshape human relationship with brands. What are the environments, spaces and experiences that fashion brands will need to offer to connect with these consumers in 2020? How does this shift in fashion translate to the manufacturers of these brands? How will Sri Lankan fashion manufacturers have to transform their practices, technology, workforce skill and know-how for fashion in the age of reengagement?

Future Laboratory's trends analyses, case studies and consumer experience models at the South Asian Apparel Leadership Forum will help Lankan fashion makers refocus their operations to outperform competitors and establish new leadership in fashion making, in the age of re-engagement.
The Future Laboratory is renowned across the world for their lively and engaging sessions, and explain that their 'job and passion is to help businesses navigate a path into the future'.

Its founding partner and chief strategist Chris Sanderson will provide an insight into the essential consumer knowledge to help Sri Lankan apparel makers understand the fashion market of tomorrow and the kind of product that they desire. This thought-provoking analysis on product and identity trends will provide a wealth of knowledge that will become imperative for the next decade in fashion.
With Sri Lankan apparel industry looking to enter into a new age where there are massive opportunities to harness— as the nation's largest forex generator, it also has a pivotal role to take on in establishing the country as the regional design and innovation hub.

The insights are also highly relevant for those from any industry sector or specialty looking for inspiration on how to face the rapidly changing consumer landscape, market insights and evolving business models. Whether you are an apparel industry professional in management, production, sourcing, design, tech or merchandising, an independent fashion designer, fashion entrepreneur or investor, the Future Laboratory session at the South Asian Apparel Leadership Forum will change the way you approach the business of fashion.

South Asian Apparel Leadership Forum is held as part of Mercedes Benz Fashion Week on the 28th October at Mercedes Benz Center- DIMO 800.