---

The National Sales Congress (NASCO) 2017 organized by the Sri Lanka Institute of Marketing (SLIM) drew to a successful conclusion recently at Eagle's Lakeside, Colombo, with an awards ceremony. Attracting the highest number of entries in the history of SLIM NASCO this year, the event was graced by R. Renganathan - CEO / Director, Ceylinco Life PLC as Chief Guest and Mahen Perera - Past President SLIM as the Guest of Honour for the evening, who felicitated the winners. The overall winners list includes Amal Bulathsingala of Nations Trust Bank in the 'Sales Executive' category; Lasantha Pushpakumara from Astron Limited in the 'Front Liner' category; Safeekhan Siddique of Siam City Cement in the 'Territory Manager' category; and Natalie Samarasinghe of Power House Ltd for 'Best Female Sales Personnel'.

This year's edition of SLIM NASCO recorded over 550 entries across categories of sales frontliners, executive, supervisors and territory managers from 22 industries. A total of 96 companies came on-board of which 12 were first-timers at NASCO, which reflects a steep rise over the previous year.
Commenting on SLIM NASCO 2017, Karthik Elangovan – President of SLIM, said, "I would like to express my best wishes to all the winners at the SLIM NASCO 2017, which is an annual highlight in the nation's corporate calendar. Buoyed by the number of entries, we have planned more awards for deserving sales personnel in the next year's edition of SLIM NASCO, such as National Sales Manager/Director. We believe this will further widen the scope and appeal of the sales profession. We urge all sales personnel to put their foot forward and look ahead for exciting new categories at the next SLIM NASCO awards."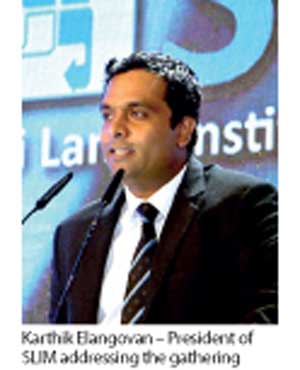 Adding further, Suranjith Swaris – Vice President of SLIM said, "SLIM is playing a strategic role in elevating standards among sales professionals in the country and SLIM NASCO awards have become the most coveted corporate recognition in the country. I take this opportunity to thank the eminent panel of judges and Nandana Wickramage – Advisor to the panel of judges and Stephen Paulraj – Head of the Judging Panel, for their valued contribution for ensuring the success of these awards." Commenting on the success of NASCO 2017, Manthika Ranasinghe – Project Chairperson of SLIM NASCO said, "The SLIM NASCO 2017 was successful beyond our expectations and we owe this success to our financial sponsors and media partners. Organizing SLIM NASCO in an open and accountable manner was a huge responsibility and I would like to commend the SLIM Council, Staff of SLIM, and the fellow members of the Project Committee for working tirelessly to ensure that SLIM NASCO delivered the best, further strengthening its credentials as the premier event for recognizing and rewarding sales professionals in the country."
The sectors for nominations are: Fast Moving Consumer Goods (FMCG), financial services and banking, industrial, media, consumer durables, telecommunication, fashion and clothing, healthcare, modern retail, travel and leisure, insurance, alcohol and tobacco, and corporate Selling.