---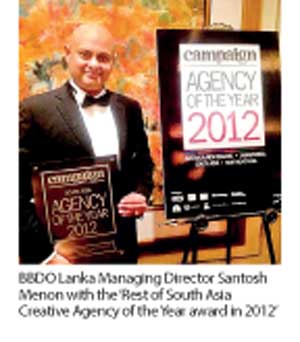 BBDO Lanka has once again been nominated for 'Rest of South Asia Creative Agency of the Year' by Campaign Asia-Pacific for its Agency of the Year 2017 awards.

This is the third time that the agency has entered the prestigious competition and been nominated for Rest of South Asia Creative Agency of the Year. It won both its previous nominations, taking home the Silver in 2012 and Bronze in 2015.

In 2015, BBDO Lanka was named Agency of the Year at its Effie Awards debut in Sri Lanka and this year took home a Gold and Finalist award for its two entries. It was also recognized with a Bronze at the Tangrams Effectiveness Awards at Spikes Asia in Singapore in September this year. The Campaign Asia-Pacific Agency of the Year awards recognizes inspired leadership, management excellence, outstanding business performance and overall brilliance from across the Asia-Pacific advertising and communications industry. Now in its twenty-fourth year, the region's most esteemed Agency of the Year awards identifies excellence in local markets through five separate regional competitions - Australia/New Zealand, Greater China, Japan/Korea, Southeast Asia and South Asia.
The judging panel comprises of senior marketers from key business categories and Campaign editors who look for compelling and inspiring content with a wow-factor that shakes things up and produces excellent business results. The campaign works closely with the industry to review and refine methodology and judging process to ensure fairness and the results are tabulated by PricewaterhouseCoopers. This year it introduced a weighing system for award winners within specific markets.

Entries were open to all media, advertising, creative, digital, PR, independent and specialist agencies from all countries in the Asia-Pacific region. Only work done during the period 1 October 2016 to 30 September 2017 was eligible. The South Asian region awards will be announced and presented at a gala dinner in Mumbai, India on 5 December 2017. BBDO Lanka Managing Director Santosh Menon said, "We are delighted to have been recognised with this coveted regional nomination for the third time. The nomination recognizes BBDO Lanka's overall performance in the year and is a reflection of our continuous commitment to delivering great work for our clients year after year. I thank each and every one of our clients including Fonterra Brands, Janashakthi Life, London Stock Exchange Group – Millennium IT, CEAT Kelani International Tyres, Kansai Paints, Hatton National Bank, Piramal Glass,Taj Samudra and Marico for the opportunity to work on their businesses."

"Over the last few years, the Sri Lankan market landscape has changed tremendously. On the one hand there are marketers who want to stick to the traditional mass marketing techniques that are increasingly losing relevance today and on the other hand are marketers who are turning to post digital specialists, trading in creativity for greater efficiencies. It is in this scenario that BBDO Lanka took the brave stance to ignore those predicting the demise of the industry and to work with clients to go beyond the USP-differentiator approach and become a 'mass mattering' agency, i.e. connecting brands to people and what matters to them," he continued. Other BBDO agencies in the South Asia region, BBDO Pakistan and BBDO India, were nominated for Creative Agency of the Year 2017 for Pakistan and India, respectively. BBDO India personnel were also nominated for South Asia Strategic/Brand Planner of the Year 2017 and South Asia Creative Person of the Year 2017.
Campaign Asia-Pacific is the most prominent and credible publication serving the advertising and communications industry in the Asia-Pacific region. It provides insights and intelligence into the ideas, work and personalities shaping the region, delving deep into important subjects and presenting the most compelling information that matters to businesses in the fastest-growing and most exciting communications market in the world. The Campaign Asia-Pacific portfolio includes online and digital products, as well as conferences, awards and joint festivals with Cannes among others. The Campaign Asia-Pacific Agency of the Year awards is the only awards programme that honours agency performance at both a local and regional level.