---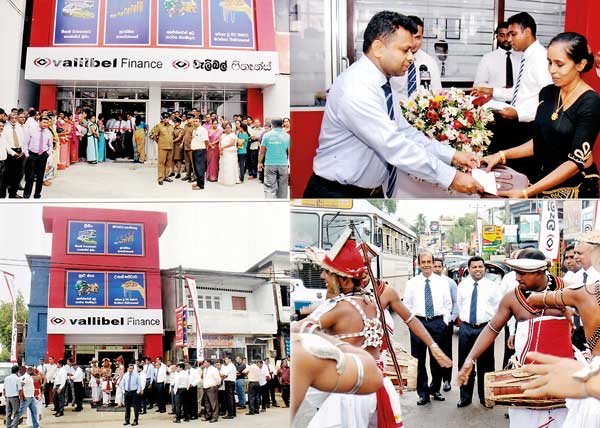 Vallibel Finance new branches in Piliyandala and Warakapola being inaugurated by Ranjith De Silva, Chairman and Jayantha Rangamuwa, Managing Director.

The cutting edge Vallibel Finance continues its ambitious expansion drive with the opening of two new branches in Piliyandala and Warakapola.
In a quest to enhance convenience and deliver excellence in service for their valued customers across the island, Vallibel Finance opened its latest Branch in the bustling and fast evolving cities of Pilyandala and Warakapola, bringing the world of cutting-edge financial products and services, closer to the doorstep of homes and corporates.
The new branch designed to create a pleasing and rewarding experience for discerning residents, business entrepreneurs and large scale corporates was declared open by Jayantha Rangamuwa, Managing Director - Vallibel Finance. The launch was attended by eminent personalities, entrepreneurs and loyal customers. Vallibel Finance has grown in strength and stature and reached great heights since its inception in March 2015.
"The financial requirements of our customers do vary from city to city. Understanding this and appreciating the individuality of each of our customers, we areequipped with the expertise and robust product portfolio to partner the clientele of Piliyandala and Warakapola, offering them exclusive and customized service. We have plans for rapid growth and expansion by widening our network to provide our services to more customers across the island. Vallibel will be extending its presence to Wattala, Balangoda, Dambulla and Hikkaduwa in the near future." he added.
The Vallibel Finance portfolio includes a wide and extensive array of services, providing customers the best in financial products such as, Leasing, Hire Purchase, Personal Loans, Micro Finance, Pawning, Group Personal Loans, Mortgage Loans and Fixed Deposits. All products are customized to suit the individual needs of each customer or organisation.