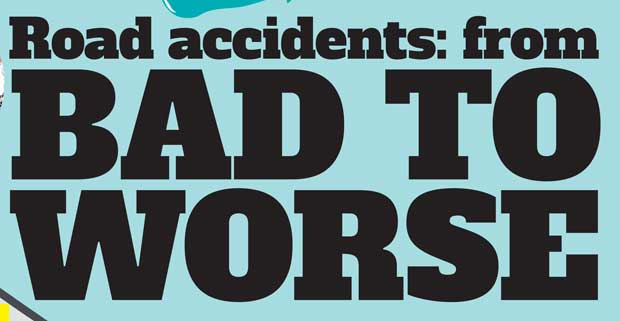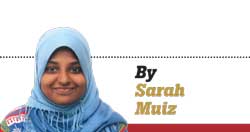 There is an increasing number of road accidents being reported everyday. Who could be held responsible for the increasing number of road mishaps? Is it motorists or pedestrians ? Could it be the design in the road infrastructure itself or a combination of factors?
---


During the past week many road traffic accidents were reported from different places. The most recent one took place on Thursday morning (10), when five Presidential Security Division officers lost their lives and several others were injured following a collision of a Defender jeep with

two private buses at Miriswatte on the Minuwangoda - Colombo Road. In the same week, another case was reported where a 17- year- old youth was killed in a hit- and -run case at Rajawatte, Veyangoda. Another accident was reported from Thalgodapitiya this week when a motor cycle collided with a van claiming the life of a four- year- old child while injuring two others. It was reported that sixty people lost their lives in road traffic accidents this month.

A statistical analysis conducted by the Ministry of Transport has indicated the nature of accidents that had taken place in 2014. According to that tabulation, the number of fatal accidents reported stood at 2261. The number of minor accidents and serious accidents reported during last year were 13051 and 6688 respectively.


Road accidents are triggered by five major factors - Police Media Spokesman
Speaking to the Dailymirror, Police Media Spokesman ASP Ruwan Gunasekara cited five major reasons detrimental and directly linked to road traffic accidents.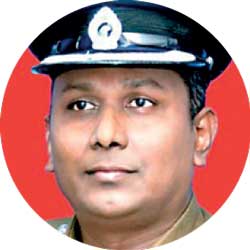 The first major cause that leads to accidents is the condition of roads. If roads are maintained well, most are preventable. He said that in the event there is a narrow bend or deep cliff, sign boards should be used to alert drivers about these road condition ahead. Mr. Gunasekara also said that shortcomings in road infrastructure in general have unfortunately led to several accidents.

The second major cause is the condition of vehicles. Vehicles sans head lamps and with poor brakes are not roadworthy. Drunk driving is another contributory factor to accidents as pointed out by Mr. Gunasekara. Many fatal cases reported were due to drunk driving. Apart from these, the negligence of pedestrians when crossing the road and the lethargy on the part of law officers in executing their duties could also contribute to accidents.

"Violators of road rules must be brought to book and apprehended to ensure that they do not make the same folly twice. In case a driver is driving at high speed traffic police has a duty to take immediate measures to prevent him from going any further. High speed is one of the common killers in disguise," he added.


Legal measures and raising awareness: how effective are they?
"Traffic police has been instrumental in raising public awareness in road rules and road safety.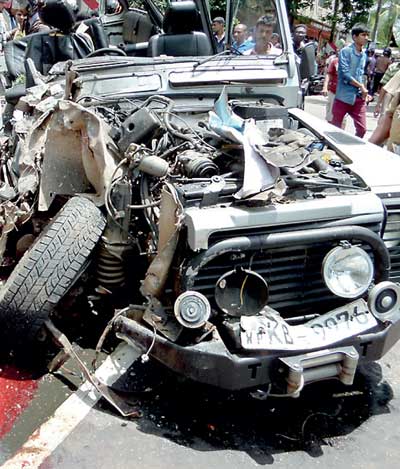 We also file cases and give detentions to those who do not follow traffic laws. For instance, traffic police takes a firm stand against high speed driving. The best way to curb the increasing number of road mishaps is to avoid the risk factors. Drivers, pedestrians and law authorities share an equal responsibility to ensure road safety," Mr. Gunasekara added.

Citing statistics from the Department of Motor Traffic, ASP Gunasekara said that 1416 road accidents were reported to the Department of Motor Traffic from January to August 2014. During the same time period, 1521 people died in road accidents. 554 of these accidents involved motorbikes while 451 were due to pedestrians colliding with motor vehicles.

However from January to August 15 this year, 1824 accidents have been reported while the number of fatal accidents was 1700. The number of accidents due to motorbikes was 653 and accidents involving pedestrians were 507 for the same period.


"Inadequate safety measures are a root cause for road traffic accidents" – Prof. Amal Kumarage
Speaking to the Dailymirror, Senior Professor of the Department of Transport and Logistics Management, University of Moratuwa Prof. Amal Kumarage said that there were many factors that contributed to the escalation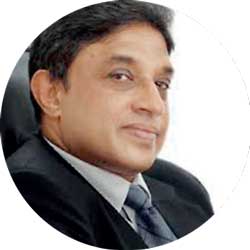 of road accidents. According to Prof. Kumarage, inadequate safety precautions and the increasing number of vehicles on the roads were directly linked with the rise in road accidents. He also said that accidents were often due to the failure of observing and following road signs.

"Road designs are often found wanting. Although priority is given to the accommodation of more vehicles and widening roads, less importance is placed on people's safety. We also have a high potential to attract young, new drivers annually. There is a tendency for more accidents to take place at the hands of these young drivers who are inexperienced or poorly trained. In addition, the mechanisms to curb road traffic accidents are inadequate. I believe that a road safety audit should be conducted on every road to identify road accidents in terms of where, when and why.

Inadequate safety standards in vehicles are another major reason that has led to the increase of road accidents. Eighty per cent of the vehicles that are in use in the country today would not allowed on the roads in any developed country because of their low safety standards. Most of the inexpensive vehicles that are locally available have low safety standards," Prof. Kumarage said.

Prof. Kumarage recommends several safety measures to curb road accidents and that imported vehicles must undergo a thorough check to ensure passenger safety. It is equally important to pay heed to safety when designing roads. Continuous monitoring of road accidents must be conducted to find out the causes. Drivers must be well trained before they are allowed to drive. He was also of the view that insurance should not focus only on the vehicle but should also take care of the human factor. "We need to change the current culture and place more value on human life. The public, insurance companies and law authorities should collaborate and play a more responsible role to minimise the number of road accidents and learn to place more value on human life which is an invaluable gift," Prof. Kumarage summarised.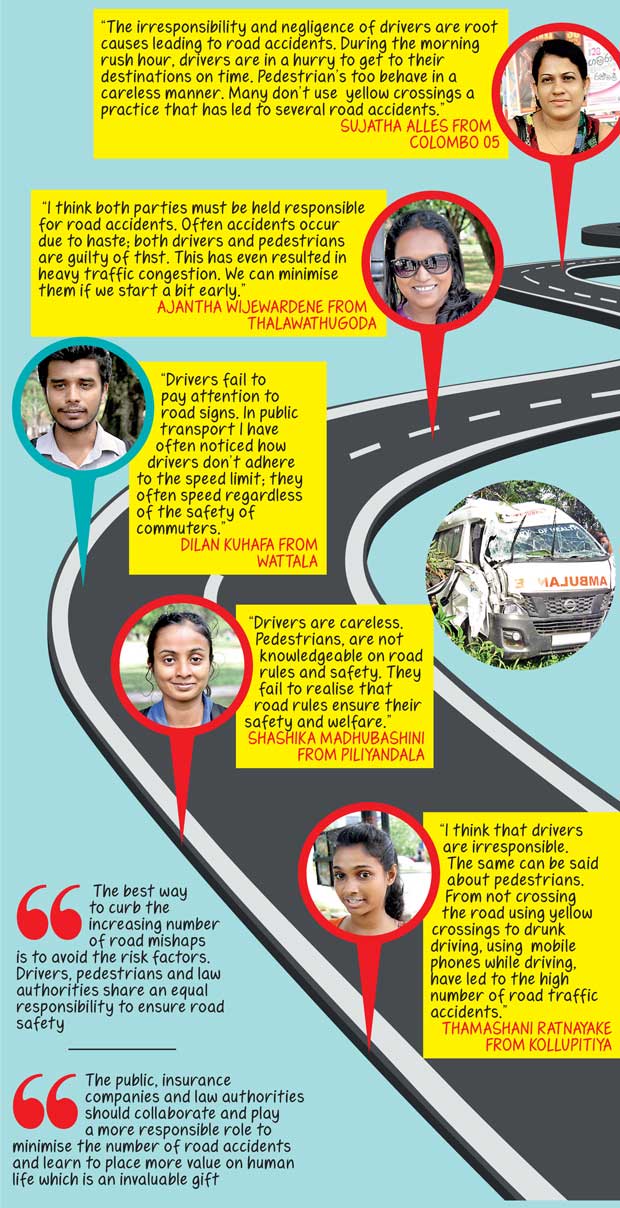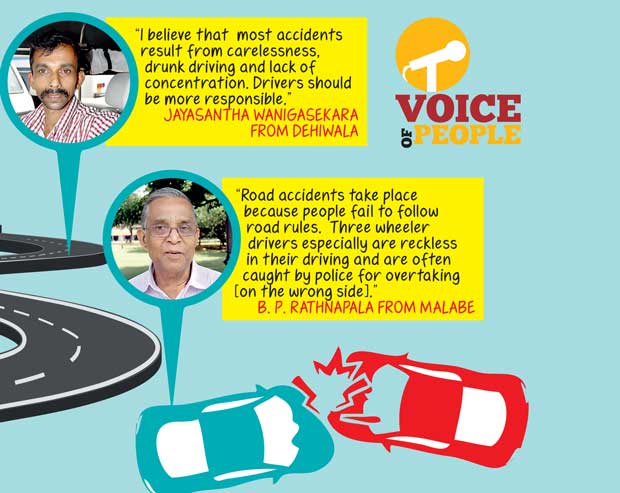 Pics by Kushan Pathiraja
---
Add comment

Comments will be edited (grammar, spelling and slang) and authorized at the discretion of Daily Mirror online. The website also has the right not to publish selected comments.

---