---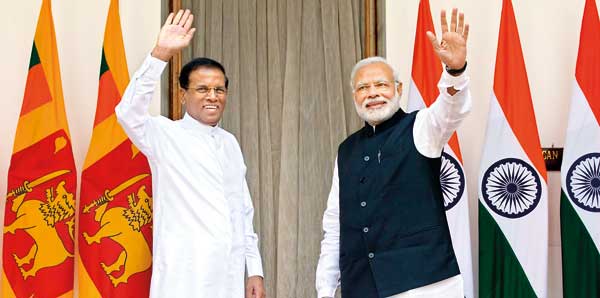 According to a media report, a high-powered Bilateral Committee is to be set up to prepare a new draft frame work for fresh negotiations between India and Sri Lanka related to the CEPA.
The committee is said to comprise representatives of the Ministries of Finance, Industry and Commerce, External Affairs, and the Departments of Immigration, Civil Aviation, Board of Investment and the Attorney General.
The original objective of the CEPA was to deepen the existing Free Trade Agreement (FTA) between the two countries to exploit opportunities in addition to trade, inthe other two areas of Services and Investments.



Sound approach
Bilateral and multilateral trade agreements, particularly bilateral Free Trade Agreements (FTAs) and Preferential Trade Agreements (PTAs) are considered to be a sound approach to promote and expand trade because they provide for rules based and an orderly trading environment.
However, the ultimate benefits and outcomes of such agreements depend on the skills of negotiators to achieve fair deals for the trading partners, and more importantly their proper implementation. In this context the asymmetry between two trading partners as in the case of India and Sri Lanka assumes great significance. In such instances a bilateral agreement that is negotiated, need to be founded on the principles of non-reciprocity, as well as special and differential treatment to support the partner country which is at a disadvantage, and to achieve a win-win situation for both trading partners.
India being a very large country both in size, and population, compared to Sri Lanka has been great concern to Sri Lankan businessmen from the outset, due to among other things the undue advantage enjoyed by Indian enterprises related to economies of scale.
Under the Indo-Lanka FTA, Sri Lanka was allowed a larger negative list (1180 tariff lines) than India (429 tariff lines). According to the media report referred to above under the proposed CEPA, India is expected to reduce her negative list by another 114 items while Sri Lanka would have to reduce only 32 items.
Further, in the services sector India is stated to have agreed to provide more access than Sri Lanka by opening 80 sub sectors with many concessions in each of them, while Sri Lanka will have to open only 20 sub sectors with restricted access. However details of these sectors, and their implications are not known.



Increase in Lankan exports?
In this promising background, those who are inclined to paint a rosy picture of the performance of the Indo-Lanka FTA state among other things, that exports from Sri Lanka to India since the implementation of the FTA in 2000 has increased several fold. (Sixteen times according to a latest news report).
It is pertinent to note that those who wish to distort the ground realities regarding the FTA prefer to present performance in percentages, ratios, etc. as opposed to absolute figures.
With regard to the stated increase of exports 16 times from Sri Lanka to India, take three hypothetical scenarios of an increase in exports from, one unit to sixteen units', one thousand units to 16000 units, or one million units to sixteen million units. In all three scenarios the increase is 16 times. However the reader is kept in the dark has to which scenario is the correct one. This amounts to a misrepresentation of statistics to support ones argument, underlining the celebrated statement "Lies, Damn Lies and Statistics".
The reality is that exports from Sri Lanka to India according to available figures has increased from USD 70M in 2001 since the implementation of the FTA to USD 543M in 2013, which is an approximately 8 fold increase. On the other hand imports from India to Sri Lanka during the same period have increased from USD 601M in 2001 to USD 3088M in 2013 which is approximately only a 5 fold increse. However, the absolute figures show the vast disparity and the widening trade gap between the two countries, against Sri Lanka.
The unsatisfactory performance of the Indo-Lanka FTA related to the original expectations is known to be due numerous Non-Tariff Barriers (NTBs), the strong protectionist domestic lobby of Indian businesses, and resistance to goods of Sri Lankan origin.



Unresolved issues
Several important issues under the Indo-Lanka FTA still remains unresolved 15 years after implementation of the FTA, while only a few have been resolved to a certain extent during this period following protracted negotiations.
Such issues led to the resistance of the CEPA when it was first proposed, by a section of vociferous Sri Lankan businessman (exporters), who wished to see the resolution of these issues before embarking on the CEPA to convince them, since they feared the opening of the services sector under such circumstances, would be detrimental to the interests of Sri Lanka. It is also pertinent to mention here that some conventional and main export product of Sri Lanka such as tea, garments and spices have restricted access under the FTA. Also around 70 percent of the top exports from Sri Lanka under the FTA are not effected by Sri Lankan exporters, but by enterprises which are linked to its trading partner.
Trading partners usually graduate from an FTA to a CEPA, based on positive experiences to consolidate mutual benefits. In the case of the Indo Lanka FTA, after 15 years of experience it is not the case. It is therefore necessary to strengthen the FTA, to improve on the negative trade balance, by fast tracking the resolution of current bottlenecks. The FTA between China and Switzerland contains articles to address transparency, product-specific rules of origin, simplification of international trade procedures, consular transactions, subsides and countervailing measures, Technical Barriers to Trade, and rules related to Central , Regional and Local Governments. These could be emulated to strengthen the FTA.
It is heartening to note that the Indian Prime Minister during his recent visit to Sri Lanka has been receptive to the concerns of Sri Lanka on the huge trade imbalance, and has indicated the desire of India to address the issue of balanced growth in trade, to make it easier and smoother to access the Indian market. He has further stated that Sri Lanka should attract investments from India for re-export to India. The recent agreement in Customs Cooperation between the two countries is hopefully a manifestation of the desire of the Indian Premier although the nature and extent of the cooperation agreement is not known. On the other hand, the President of Sri Lanka has recently indicated to the Sri Lankan business community that he would not enter into any agreement that would adversely affect the interests of domestic enterprises.
Among the main issues that are yet to be addressed and resolved under the Indo-Lanka FTA are:


Mutual Recognition Agreements (MRAs) related to testing of products, and standards
Frequent revision of rules and regulations related to classification of products by Indian Customs, labeling requirements, quarantine regulations etc.
Difficulties in obtaining vital information related to trade from designated trade points
Revision of the Rules of Origin (ROO) criteria of minimum value addition, and a change of tariff heading at the 4 digit level, which hinders exports from Sri Lanka of some products with potential.
Dismantling of identified Non-Tariff Barriers which hinder trade.
Implementation of effective dispute resolution mechanisms to facilitate trade.


In the above context it is of paramount importance that the high powered Bilateral Committee set-up to prepare the new draft frame work for fresh negotiations related to CEPA, has at its disposal all pertinent information on the Free Trade Agreement including details of existing NTBs, as well as other outstanding unresolved issues, to be able to effectively address them and determine outcomes of deepening the existing trade agreement related to products, and expansion to the two new areas of Services and Investments. Such approach will ensure the best possible deal for Sri Lankan businesses, and prevent any detrimental outcomes.
This objective could be achieved by including in the Bilateral Committee, representatives of the relevant trade chambers, particularly the National Chamber of Exporters (NCE), since it is the only Chamber which exclusively serves Sri Lankan exporters and looks after their interests as the "Voice of the Exporter" covering all products and services sectors making a vital contribution to the economy of Sri Lanka by accounting for over 50 percent of the foreign exchange earnings from exports. It is also important to include a representative of the Department of Commerce (DoC) in the Committee as the DoC has a wealth of knowledge and experience related to the operational aspects of FTAs, which is vital for the negotiations.
---
Add comment

Comments will be edited (grammar, spelling and slang) and authorized at the discretion of Daily Mirror online. The website also has the right not to publish selected comments.

---