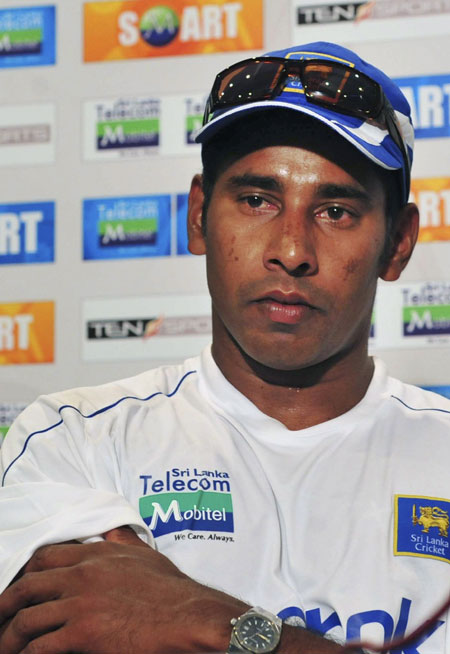 As if Sri Lanka team's on-field problems were not enough, the bungling Sri Lanka Cricket (SLC) officials have managed to complicate things by attempting to remove the team's fast bowling coach Chaminda Vaas in a failed attempt to replace him with Champaka Ramanayake, but team sources in New Zealand told "Daily Mirror" that the botched attempt only contributed to exacerbate the internal issues of the team with the World Cup a mere 18 days away.
Ramanayake, who was succeeded by Vaas in February 2013, told our reporter Bipin Dani on Sunday that he had refused to take up the job at the given short notice, after our sister paper "Sunday Times" revealed the SLC plans in an exclusive article.
"I was approached by the Cricket board to join the team in New Zealand but could not accept the invitation owing to my family commitments," Ramanayake told our reporter.
Sri Lanka chief selector Sanath Jayasuriya who is currently in New Zealand with the team had initiated the move after extensive talks with the team head coach and the players.
"Immediate attention to sort out various issues. With the World Cup around the corner, we have no choice but to address these issues and try our best to remedy them. In this context I would like to request you send Fast Bowling Coach Champaka Ramanayake to join the team immediately to start working with the fast bowlers," Jayasuriya wrote to SLC on Saturday.
"Furthermore Chaminda Vaas should be informed by you on the role that Champaka is expected to play coaching the fast bowlers," he added.
"Additionally I would recommend engaging the services of Stephen Flemming for the duration of the WC as a consultant which I think will be useful for the team, as such I will need your concurrence to engage his services. I could contact him while I am here in NZ if available and confirm same. Pls confirm both issues urgently," Jayasuriya wrote further.
SLC Secretary Nishantha Ranatunga had forwarded Jayasuriya's mail to the other SLC officials adding that during a telephone discussion he and SLC Vice President Mohan de Silva had with team manager Michael de Zoysa, similar sentiments transpired.
"Michael sent me an email last night requesting me to call him urgently and informed me of the issues faced by the fast bowlers at present and in a call conference with myself and Mohan he suggested that he too is of the same opinion as Sanath and they both recommend that Champaka Ramanayake be sent to NZ immediately considering the rest of the series and the World Cup," Ranatunga wrote.
"Further Sanath has suggested that he get in touch with Stephen Flemming and obtain his services as a consultant coach for the World Cup. Although Stephen was not available during the time SLC negotiated with him, suggest we approve Sanath to do it as he is already in NZ."
"Also considering the personal loss faced by Champaka some time back it is suggested that CEO and HOCO get in touch with Champaka and assist him in whatever way possible to organize his children's affairs before leaving ie: transport as he may find it difficult to do so at short notice," added Ranatunga.
Ranatunga had also made it clear that Jayasuriya had verbally informed of his wish to have Ramanayake as head bowling coach and to have Vaas working under him. "It is suggested by Sanath that SLC advice Vaas on the role that should be played by Champaka. During his conversation with me, he suggested that he prefers Champaka to act as Coach in charge of Fast Bowlers and Vaas to assist Champaka. It is suggested that CEO, HOCO and HOC convey same to Vaas in consultation with Sanath and Michael," Ranatunga wrote in his letter.
At this point, SLC President Jayantha Dharmadasa joined the conversation, revealing that it was he who actually mooted the entire plan to replace Vaas with Ramanayake, even before Jayasuriya suggested it.
"I had already sent a mail out to all EXCO members yesterday expressing grave concern and to address this issue immediately by sending Champaka Ramanayake. Four have replied and since the others have not responded, it could be taken as agreed by all. So please go ahead with this move, now that we have got the views of Michael and Sanath as well, and make all necessary arrangements to send Champaka to New Zealand immediately and to recall Chaminda Vaas to Colombo," wrote Dharmadasa.
An hour later, in the mid-afternoon of Saturday, SLC Assistant Secretary Hirantha Perera, himself a top cricketer during his playing days, had joined the email exchange, pointing out that it may not be wise to sack Vaas in a hurried move, becoming the first to voice his concerns.
"Chaminda Vaas is a National Icon and considered as one of the best fast bowlers ever produced by Sri Lanka. Barely few months back when we beat England in England in all 3 formats, everyone praised Vaas for his role in the fast bowling dept," stated Perera.
"When came to decide on the management team for NZ and WCC, everyone including Marvan, CEO and HOCO recommended Vaas and ExCo approved same," he added.
"Are we to believe that Vaas is the only cause and solely responsible for our performances during last few games?," questioned Perera before explaining that it was not the correct way to treat an icon. "Recalling Vaas is a slap on his face and moreover ending his career as a national FB coach. Are we doing the right thing with a person who has brought so much of honour and pride to SL cricket without a proper inquiry??," questioned Perera.
SLC firebrand Shammi Silva also sent a mail vehemently opposing the moves to replace Vaas and consult Stephen Fleming.
"We have appointed Chaminda Vass as a bowling coach with consultation of selectors. Same way we had a big discussion and appointed Marvan as a coach," he wrote, pointing out that appointment of Vaas was done after a careful procedure.
"Who gave permission to Sanath to speak to Stephen Fleming? My opinion is, tell Sanath and them do correct selection and stay away from appointing different people. I totally reject of recommending of another fast bowling coach and consultant coach," wrote Silva. Silva was angry about the planned changes. "If they want appoint them send Vaas and Marvan to Sri Lanka. Tell selectors do the proper selection and stay with it, hence I totally Reject their request. I won't be agreeable to their request," wrote Silva who is also an SLC coaching committee member.
However, another hour later, SLC Chief Executive Ashley de Silva conveyed to the members that Ramanayake had turned down the offer.
"Reference to the discussion the President, Chairman of Selectors had with Champaka, please be informed that he has intimated to them that he is unable to accept the assignment due to personal reasons. The decision was conveyed to the Manager of the team and I have requested him to discuss same with Support staff and suggest some other alternative," de Silva wrote.
On November 25, Daily Mirror, in an exclusive article revealed that SLC Chief Executive Ashley de Silva had informed an emergency ex-co meeting that national team's head coach Marvan Atapattu had demanded the removal of Vaas from the coaching team, saying that the former star left-arm bowler was not putting enough effort to improve fast bowling and his contribution during the ODI series against India was questionable.
However, the issue was sorted out later and Vaas was allowed to continue with the team beyond the recent England series.
(Channaka de Silva)