---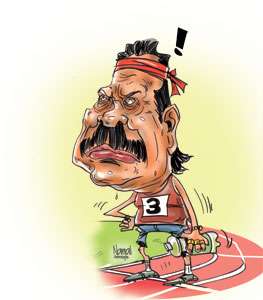 The Supreme Court's ruling delivered earlier this year on the term of office of President Maithripala Sirisena makes it clear that former president Mahinda Rajapaksa cannot contest the next presidential election, UNP MP Thushara Indunil told a media briefing today.
President Sirisena sought SC's ruling on whether his tenure was for six years or five years.
"The SC ruled that his term will end in five years even though he was elected prior to the enactment of the 19th Amendment to the Constitution, which limited the tenure of the executive president to five years thougah previously it extended to six years. This determination makes it clear that former President cannot contest again even though he was elected to the presidency on two occasions prior to the enactment of 19th Amendment," the MP said.
He said former president Rajapaksa would only damage his reputation if he contested again.
Responding to a question asked by a journalist, the MP said his party was in no way worried or alarmed about Mr. Rajapaksa contesting for a third term.
"We keep talking of Mr. Rajapaksa whenever a new topic surfaces among the public," he said and added that speculation about his third term has come up because of divisions among members of the joint opposition who are unable to select a presidential candidate.
"Some want former defense secretary Gotabaya Rajapaksa to be the presidential candidate while others are promoting former minister Basil Rajapaksa. The name of former president's wife Shiranthi had also popped up from time to time. All this shows that the joint opposition is divided," the MP said.
When asked why the UNP was not talking of its candidate, the MP said it was too early for the UNP to decide on a candidate.
"At the proper time, we will decide whether it is Prime Minister Ranil Wickremesinghe who should contest or some other member of the party. There is no need to rush," he said. (Yohan Perera)