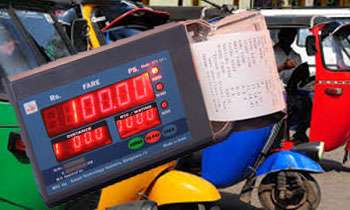 Meters with the capability of issuing printed bills would be compulsory from August 1, the National Council for Road Safety (NCRF) said.
NCRF Chairman Dr Sisira Kodagoda told the Daily Mirror that all three-wheelers used for passenger transport should have meters.
"After August 1, the regulation would be strictly implemented and stern legal action will be taken against the passenger transport three-wheelers for not having fare meters," he said.
He said they should issue printed bills to passengers indicating the distance, fare, charge per kilometre, taxi and the driver details.
"Or else the taxi drivers can have their own bill book printed giving all the above-mentioned details."
The rule was to be implemented in January 2017, but due to several requests made by three-wheeler associations, the implementation date was postponed
"The Traffic Police had been instructed to book the three-wheelers which do not comply with the regulation," he said.
"Spot fine is not allowed anymore and fine will be decided after producing the three-wheeler driver in court," Mr Kodagoda said.
He the taxi-meters was also being manufactured according to SLS standards.
"We cannot interfere with the manufacturing process but the meters should be made according to the given specifications," Dr Kodagoda said.
"The maximum cost for a meter should be less than Rs.10, 000. The manufacturers should sell the meters on flexible payment schemes," he said. (Chaturanga Samarawickrama)