---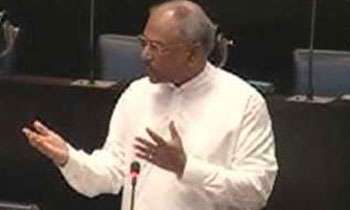 The Government and the Opposition MPs vehemently opposed the sealing of TNL Transmission Tower in Polgahawela last morning, questioning as to whether it was a beginning of a dangerous trend of suppressing media.
The condemnation came when Joint Opposition Parliamentary Group Leader Dinesh Gunawardane raised a question on the issue under the new Standing Orders 27(2) in Parliament last morning.
Mr Gunawardane questioned as to what the Government would do to rectify this situation.
"The TNL had been taken to courts this morning and we do not know what will become of it in the next few days. How could the CID officers enter the transmitting station forcibly and seal the transmitting station as we are not under a dictatorship," he questioned.
The MP stressed that licence could be cancelled and a station could be sealed only after giving due notice as per the Telecommunication Act. He said such notice had not been given.
He said there was no issue in paying license fees as the station had made the payments up to 2017 and was negotiating with TRC to resolve some issues pertaining to licence fees that had popped up thereafter.
He said the TNL was corresponding with TRCSL to resolve the matter.
Also, he questioned as to whether President Maithripala Sirisena could hold TRCSL under his purview under the 19th Amendment to the Constitution.
He said President could hold Defence Ministry and the Mahaweli Ministry according to 19th Amendment according to his knowledge.
"We don't care about the political ideologies of TNL Chief Shan Wickremesinghe, but we are concerned about the fate the media is suffering.
"Besides Mr Shan Wickremesinghe is the person who started a TV transmission in 1979 and it was taken over by the Government as it failed to put up a photo of then-President J. R. Jayewardene at the station," Mr Gunawardane added.
Mr Gunawardane said TNL produced several personalities such as Buddhika Pathirana, who is an MP today.
MP Pathirana then said the present Government did not come to power to shut down TV stations.
"This is a shameless as we did not come to shut down TV channels," he said.
"This is nothing but a joke," he said while condemning the blocking of Lankaenews website as well.
MP Bandula Gunawardane said the CSN has also suffered the same fate as TNL.
"We are standing up for media freedom irrespective of party differences," he said.
Minister Malik Samarawickrama said he too was against the move to seal the TNL transmitting tower.
However, he said it was not reasonable for the Opposition to charge that there was a dictatorship as there were attacks on media during the last regime as well.
Speaker Karu Jayasuriya then assured that he would get Minister of Telecom and Digital Infrastructure Development Harin Fernando to make a statement in the House on the issue.
Meanwhile, Prime Minister Ranil Wickremesinghe declined to make any statement on the matter though MPs questioned him as well.
"I don't think I should make a comment on the matter," he said. (Yohan Perera and Ajith Siriwardana)