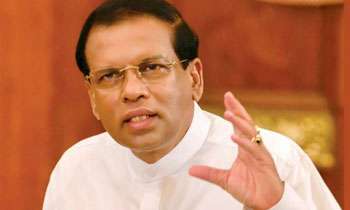 President Maithripala Sirisena today instructed officials to suspend the services of a senior official attached to the Presidential Secretariat and the Chairman of the State Timber Corporation (STC) who were facing bribery allegations and advised the authorities to strictly enforce the law against the two offenders.
Statement issued by the President's Media Division said the decision was taken after the arrest of the two top officials.
This confirms the importance of establishing independent commissions and implementing the policies of the Government against bribery and corruption, the statement further said.
It also said that the President was pleased with the independent and impartial background created by the present government to ensure that the law enforcement authorities are able to perform their duties independently. (Chaturanga Samarawickrama)