---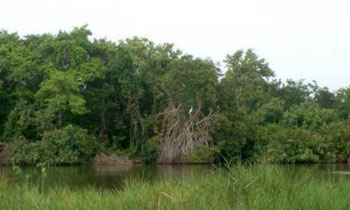 Environmentalists are perturbed about a private company alienating 406 acres from the Muthurajawela sanctuary to construct a housing scheme.
Environmentalist Sajeewa Chamikara of the Movement for Land and Agricultural Reforms said the Agrarian Services Department had permitted the private company to construct a housing complex on the recommendation of a senior official of the Department in the Gampaha District.
He pointed out that Rs.32,551 million had been paid by the company to the Agrarian Services Department for 65,102 perches at the rate of Rs.500 a perch.
Mr. Chamikara said the clearing of this wetland, rich in bio-diversity would result in an extensive environmental damage.
"Muthurajawela is the largest coastal marshy land in the country spreading over a vast area from Kelani River to the Negombo Lagoon. It is rich in endemic birds and animals and mangroves unique to the area. Muthurajawela had been a smiling tract of paddy fields but due to the flow of seawater through the Hamilton Canal constructed by the British it turned unfit for agriculture," Chamikara said.
He said that the government in 1965 planned to construct houses in Muturajawela for the shanty dwellers in Colombo. However, it was abandoned on the advice of the environmentalists who explained the importance of Muthurajawela as an environmental zone rich in biodiversity.
"However the Agrarian Services Department has taken the step to alienate a vast area of 406 acres for a housing scheme regardless of its environmental damage," he said.
He further said the amending environmental and forest conservation regulations for the benefit of the investors under the free economy should immediately come to an end or else the country would soon be a parched-up desert.