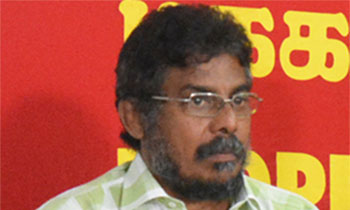 Parents' Union of Medical Students (PUMS) today made a complaint to the Bribery Commission stating that the University Grants' Commission (UGC) and the Higher Education Ministry had shied away from its responsibilities when enrolling students to South Asian Institute of Technology and Medicine (SAITM).
Executive member of the Union Asoka Ranwala said both the UGC and the ministry had granted approval to students who did not meet the basic qualifications required for the study of medicine.
In its complaint, the Association had urged the Commission to institute legal action against the UGC and the ministry, after conducting an impartial inquiry.
Mr. Ranwala said due to the improper and corrupt mechanism followed when registering students to the SAITM, it was now difficult to resolve the controversy.
At a press conference in Colombo, the Association questioned the move to sell the Neville Fernando Teaching Hospital (NFTH).
Union Secretary Wasantha Alwis said, though there were claims from the government of its acquisition of the NFTH, the newspapers carried an advertisement by Dr. Neville Fernando for the sale of the NFTH.
He further said that the Association hopes to lodge a complaint next week with the Bribery Commission, as the Government has already pumped in funds of more than Rs. 3 billion per year.
As such, he said the ownership of the hospital is questionable, and it would be a misuse of public funds if the government had not acquired it and was permitting Dr. Neville Fernando to sell the NFTH. (Thilanka Kanakarathna)