---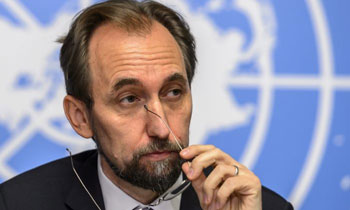 UN High Commissioner for Human Rights, Prince Zeid Al-Hussein yesterday said he was alarmed by recent violent incidents in Sri Lanka and said he would encourage UN Member States to explore the use of universal jurisdiction in the absence of progress in accountability and transitional justice in Sri Lanka.
In his annual report and oral update to the 37th session of the Human Rights Council on the activities of his office and recent human rights developments, Prince Zeid said there should be no impunity, either for the incitement that led to the attacks, or the attacks themselves.
"In Sri Lanka, I am very alarmed by recurring and continuing episodes of mob violence targeting ethnic and religious minorities, particularly Muslims, including the most recently in Ampara and in several locations in the Kandy District, leading to the declaration of a nationwide state of emergency for 10 days," he said.
He said he has repeatedly urged the Sri Lanka Government to advance its implementation of the transitional justice agenda.
"I regret the absence of meaningful progress. It is urgent, for the sake of the victims, that progress be made on accountability and transitional justice. In the absence of such progress I would encourage Member States to explore the use of universal jurisdiction. The Council will be fully briefed in this regard on March 21," he said. (Lahiru Pothmulla)