---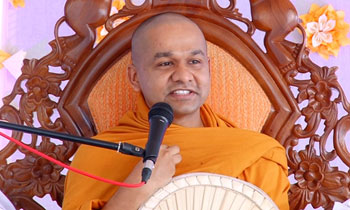 The Amarapura Vidwat Sangha Sabha said yesterday that Finance Minister Mangala Samaraweera had been fooled into giving tax concessions to the beer industry because of a study that was based on fabricated data to please the tourism industry, .
In a press briefing, its Chief Registrar, Venerable Mawarale Bhaddhiya Thera, said that although the finance minister had reduced the tax on beer stating that it was a measure that was required to attract tourists, liquor was not a priority for tourists when choosing a travel destination.
The Thera said people in developed countries consume liquor in line with their religious patterns and several other social behavioural patterns. However it did not figure high on their agendas when they visit Sri Lanka as their main aim when they do so is for natural enrichment and the need to find a holiday that suits their budget.
Furthermore, the thera said the ministry had decided to reduce the tax on beer after taking into account the findings of a private research conducted by a lecturer of the Colombo University, one which the lecturer concerned had later recanted.
"According to the minister the study conducted had shown that 49 per cent of Sri Lankans consumed 'Kassippu'- a locally made illicit brew. This was later acknowledged as being incorrect and the Colombo University had denied that the study was conducted by them but was conducted privately. Based on the study Minister Samaraweera had taken a decision to reduce beer prices as he was misled by beer companies that fed him facts that were false," the thera stressed.
The thera also pointed out that only 20 per cent of the country's population consumes 'Kassippu' and only one per cent of the women population above the age of 15 consume liquor.
The thera also highlighted the fact that tobacco and liquor had been identified as the key contributors to the increase in non-communicable diseases and the alarming increase in domestic violence against women and child abuse.
The Thera therefore called upon President Maithripala Sirisena to step in and oppose the Finance Ministry's alleged move to cultivate alcoholics."We do not have faith in our Parliamentarians, however we still trust in our President and hope the country's first citizen will intervene and save the country from becoming a nation of beer drinking alcoholics," the thera said. (Thilanka Kanakarathna)