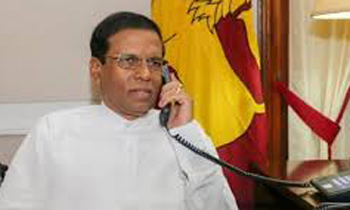 In the wake of the crisis surrounding the issuance of petrol in the country, Indian Prime Minister Narendra Modi telephoned President Maithripala Sirisena and assured him that his country would provide every assistance needed to help Sri Lanka at this challenging time.
He gave this assurance in response to a request made to him by Sri Lanka. It was noted that a stock of 21,000 kilo litres of petrol was dispatched from India to Sri Lanka today.
In addition Lanka Indian Oil Company (LIOC) has made available 3,500 kilo litres of petrol from its stock to the Ceylon Petroleum Corporation to address the crisis.
According to sources from the Indian High Commission, additional supplies will be made available to Sri Lanka at the refinery in Kochi, India.
Mr. Modi assured further assistance if needed during the telephone conversation.
The conversation took place amidst allegations that the LIOC is responsible for the fuel crisis in the country. (Kelum Bandara)