---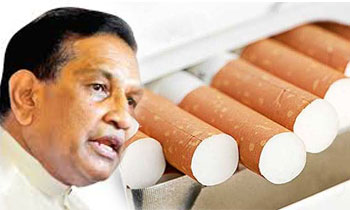 A memo that seeks approval to ban cigarettes in single sticks will be presented to the Cabinet next week as another step to eliminate the habit of smoking among Sri Lankans and among the youth in particular, Health and Indigenous Medicine Minister Dr. Rajitha Senaratne said yesterday.
"We have won the fight against the use of tobacco and smoking but we have a long way to go to fully eliminate smoking in the country. People now think smoking in open is a stigma. That is why they smoke in hiding. The laws banning smoking in public places and the increase of VAT up to 90% on cigarettes have also helped to reduce smoking. Our final target is to compel the people to fully give up smoking. However, Sri Lanka has been commended in many a global forum like the World Health Organization (WHO) for our efforts to control tobacco and smoking," Minister Senaratne added.
Addressing a health camp held at the Ratiyala Maha Vidyalaya at Bulathsinhala, Minister Senaratne went on to say that legislations will also be introduced to order cigarette companies to market cigarettes in plain packets without any attractive features and only with the brand of the cigarette. It would be compulsory to print in colour the pictures of smoking related diseases like lung cancer, oral cancer and respiratory ailments covering 80% of the cover of the cigarette packets.
The fight against corruption is not an easy task. Many powerful companies, drug mafia, doctor mafia and my political opponents have got together to attack me for reducing a particular cancer drug to Rs. 40,000 from Rs. 180,000. A team of oncologists at the National Cancer Institute, Maharagama made a big hue and cry against the use of Russian made cancer drug and insisted that only European drugs must be prescribed to cancer patients despite their huge cost. But I was able to convince them the Russian drug was very effective and of similar quality to the European drug but it is very affordable. I applied the same policy to provide stent to heart patients and contact lenses to eye patients free of charge using the funds saved by breaking the drug mafia," he stressed. (Sandun A Jayasekera)