---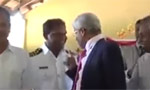 Commenting on the allegations made by Eastern Province Chief Minister Nazeer Ahamed alleging that Eastern Province Governor Austin Fernando did not know the protocol and frequently undermining the Chief Minister's authority in the Province and interfering in his work, Mr. Fernando said he was a protocol minded man and thus respected everybody.
Mr. Fernando said he did not accept any of the Chief Minister's allegations and therefore he had no reason to reject them.
"I am a protocol-minded man and I respect everybody. I do not accept any of his allegations and therefore it is still with him," he said.
Commenting on the allegation by the Chief Minister that the Governor had rejected to take him to Sampur in the helicopter after a function in Kinniya, Mr. Fernando said he did so not because the Chief Minister should not be given a flight but since there had been no room in the helicopter.
"The helicopter was not organised by me. It was organised by Minister Faiszer Musthapha's Ministry Secretary Kamal Padmasiri. He wanted to take the Chief Secretary and the Government Agent in the helicopter. So I had to send my wife and my police officer by road. I informed the Chief Minister that he may have to go by road as there was no room in the helicopter,' he said.
When asked, Mr. Fernando said he would not even think of asking for an inquiry about the allegations, as he did not accept them. "I was not affected. Any affected party can ask for an inquiry," he said.
He said, if the people know who the Governor was, and not who the Chief Minister was, without introduction, it was a bad show.
The Chief Minister yesterday alleged that the governor had shown a lack of respect for him, frequently undermining his authority in the province and interfering in his work, and that if the Governor had told the organisers that I was the Chief Minister, and that I should be allowed on stage, this wouldn't have happened. (Ajith Siriwardana)