---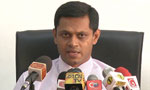 A day after the Prime Minister hit out at the Government Medical Officers' Association (GMOA) and certain media institutions, the GMOA said it hoped Prime Minister Ranil Wickremesinghe would realize that as a professionals' association it has the right to express its views on any relevant matter.
Rejecting the Prime Minister's claims that the GMOA was backing former president Mahinda Rajapaksa, the GMOA said it was disappointed over the Premier's statement.
GMOA Secretary Dr. Nalinda Herath said they never expected Mr. Wickremesinghe who is an experienced and professional politician to make such irresponsible statements.
"The GMOA is a non-political organisation which speaks up in matters which affects doctors and patients in the country. Whether it is done by the government or any other organization, we will leave no room for any individual to change our stance. This is the very first time that our organization had been faulted by the country's leaders. The image of the Prime Minister has been tarnished by this statement," he said.
The GMOA said despite any kind of opposition and obstacles, it would never stop its awareness campaign on the proposed Indo-Sri Lanka Economic and Technology Cooperative Agreement (ETCA).
The Government Dental Surgeons Association (GDSA) President Nimal Karunasiri said the Prime Minister should maintain his good standing and reputation without using the vocabulary of politicians like Mervin Silva and S.B. Dissanayake.
He said they were shocked at the tone of the Premier's statement and never expected him to refer to the GMOA in such a way.
Engineering Associations President Gamini Nanda Gunawardane said when the professionals' organizations attempted to draw the government's and people's attention to a very serious matter like the ETCA, the Prime Minister spoke on some unnecessary matters in a futile attempt to sweep the matter under the carpet. (Piyumi Fonseka)