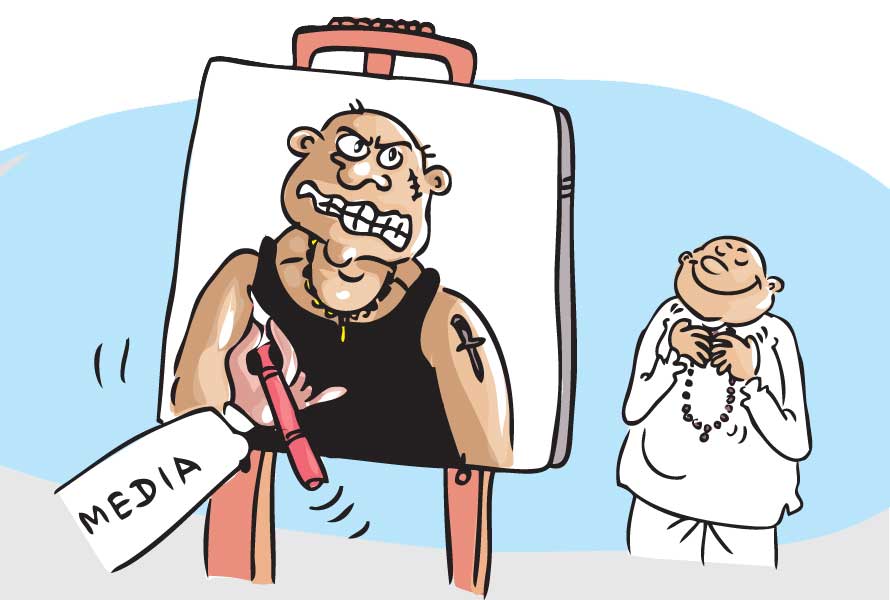 he media are the most powerful entity on earth. They have the power to make the innocent guilty and to make the guilty innocent, and that is power, because they control the minds of the masses. This interpretation of the media's role and power comes from a controversial figure Malcolm X, who was considered by thousands of admirers as a courageous advocate for the rights of coloured people but detractors accused him of preaching racism and violence.
Whatever the case, we need to agree that what he has said about the media is largely valid especially in today's world of print or electronic media and the ever growing social media. President Maithripala Sirisena, in a powerful Independence Day message telecast live to millions of people made a special request to the media. He reminded journalists and media group owners that after the people's silent revolution of January 8, 2015 they were enjoying full freedom, which had been denied to them especially during the previous Rajapaksa regime, which has been accused of being responsible for the death or disappearance of more than 30 journalists and attacks on media offices.
As the Daily Mirror also has said often in its editorials, the right to freedom is linked to responsibilities. To the extent we carry out our responsibilities, only to that extent are we entitled to our rights.

According to time-tested and time-honoured principles of the free media and journalism, our principal role is to be the voice of the voiceless people, millions of impoverished and marginalised people who do not have the basic needs of food, shelter and clothing and do not have a voice also.

We see this, powerfully and dramatically in what is happening in and around Syria with some thirteen million people struggling as refugees and driven to deep desperation or despair that brings them to the point of death.

In recent weeks the world media have spotlighted the agony and anguish of tens of thousands of refugees in Madaya, where even children are reported to be surviving on grass without fresh water or basic sanitation facilities.

To spotlight the plight of millions of such people needs to be the main mission of the independent media. We need to keep on spotlighting it till the governments or authorities take effective steps to address the crisis. Any media group that does not have this as its priority mission is failing in its mission. We cannot make a preferential option for any political party but we need to make a preferential option for the impoverished and ill treated people in our society.

Journalists need to be well trained and made aware of their commitment to the principle of fair, balanced and accurate reporting or feature writing. Journalists who cannot be true to their conscience or commitment would be well advised to find some other job instead of damaging the reputation of what is more than a profession and needs to reach the dimensions of a sacred vocation.

In addition as we move into the world of digital journalism, journalists also need to be creative and imaginative. We need to move away from reactive reporting. That means something happens and we report it. We need to move to the higher realms of proactive and investigative reporting or feature writing.

Most analysts believe that because the journalists in the print and electronic media are not doing their jobs properly, many people are turning to the social media, which has its plus points but often acts without checks and balances or gives stories a spin to suit the ulterior motives and agendas of vested interest.
For instance, last Friday there was an interview on a TV Channel. With or without a pre-planned agenda, the interviewer apparently threw some full tosses to the person being interviewed. He holds a top position in a State institution but preferred to use some other title so that he could comment on a current legal dispute.

If journalists have agendas and throw full tosses to politicians or top officials to achieve their ulterior motives, then we may be liable to face the indictment of Malcolm X, that we are abusing our power to make the innocent guilty and the guilty innocent.